Foxcraft: Book One, The Taken by Inbali Iserles – Book Review by Fred Patten.
---
Submitted by Fred Patten, Furry's favorite historian and reviewer.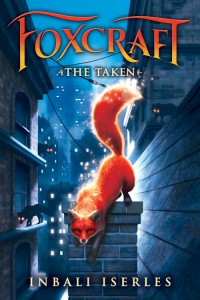 Foxcraft: Book One, The Taken, by Inbali Iserles. Illustrated by the author. Map by Jared Blando.
NYC, Scholastic Press, September 2015, hardcover $16.99 ([3] + 252 [+ 8] pages), Kindle $8.87.
Foxcraft: Book One, The Taken, by Inbali Iserles. Illustrated by the author. Map by Jared Blando.
London, Scholastic Press, October 2015, paperback £5.99 ([3] + 252 [+ 8] pages), Audio CD £27.70.
Foxcraft: Die Magie der Füchse, by Inbali Iserles. Illustrated by the author. Map by Jared Blando. Translated by Katharina Orgaß.
Frankfurt, Fischer KJB, September 2015, hardcover €14.99 ([3] + 252 [+ 8] pages), Kindle €12.99.
I won't guarantee the accuracy of the descriptions of the British and German editions, because I have not seen them. The American cover by Liam Peters is actually a wraparound digital painting, but the back cover portion does not seem to be online anywhere.
Foxcraft is another series for Young Adults; recommended for 8- to 12-year-olds or grades 4 to 7. The blurb calls it "The first book in a thrilling fantasy trilogy", so we know that it will be only three novels.
"My paws slipped on dry earth. I kicked up shrouds of dust as I hurtled toward the fence. Swerving to avoid it, I righted myself and dived under the splintering dead wood. My pursuer was gaining on me as I grasped for the wildway, the tangle of greenery on the other side. I caught the rich aroma of hazel and cedar, the quiet and peace of the world beyond the web of grass." (p. 1)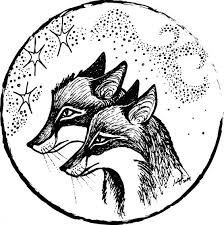 Isla is a young vixen who lives with her larger brother Pirie, and her Fa and Ma and Greatma in a den within a patch by a wildway, a path of green, tall grass, and a few trees between the gray territories of the two-legged furless. The reader will recognize this as a semi-developed human residential neighborhood between the true wilderness and a fully-urbanized city; and that Isla's family are what are known as urban foxes, living close to the humans but not in their fully-urbanized cities. They are mostly scavengers, but not entirely; they eat well on the rats that infest all human cities. Isla and Petrie, the foxlings, play together while the adults forage for food.
The three elders call Petrie and Isla in from their play when rain threatens. But Isla thinks she scents berries near their wildway and is lured after them. She is gone longer than she expects, and when she returns to her den, she finds redness and smoke and five or six strange foxes prowling in the ruins of her home. The leader of the intruders is a one-eyed vixen:
"'Death,' she hissed, and the foxes stiffened. 'The Master has spoken – all traitors will die!'" (p. 12)
Isla flees into the heart of what her family has called the Great Snarl, and what she learns other wild animals call the Graylands; the human city. She does not know what has happened to her family or where to look for them. For the first four chapters the reader wanders throughout the city with Isla, seeing it with a fox's bleak eyes and learning some vulpine language; "death rivers" or "deathways" for highways, and "manglers" for automobiles. Then she learns that she is being followed by Siffrin, another fox who hopes that she will lead him to Petrie. But Siffrin is not an ordinary fox. He can look like another animal, or Isla herself:
"My ears flicked back. 'Is it … Do you turn into different creatures?'
His voice was so low I could hardly hear him. 'It's a foxcraft, an ancient form of shape-shifting. With it I can mimic the appearance of another cub of Canista. I copy what I see, what I feel with my senses. I do not become someone else – it just looks that way to the untrained eye." (p. 70)
This foxcraft is called wa'akkir. Isla wants to learn wa'akkir, and what other foxcrafts there are like slimmering, and what happened to her family, and why Siffrin and the Elders who she has never heard of want Petrie, and who the deadly foxes are who destroyed her den and are mortal enemies of the Elders, and …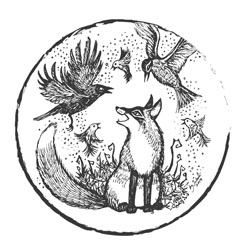 And lots more. By the end of The Taken, Isla has had desperate adventures and escaped from them. She has learned the answers to most of these questions, but she has not found Pirie yet (although she now knows that he is still alive). Further adventures lie ahead. Book 2, The Elders, will be published in Fall 2016.
Foxcraft is a mixture of genuine vulpine lore and Iserles' invention of their culture. A group of foxes is called a skulk. (True.) The high-pitched barking that foxes make while on a hunt is called gekkering. (True.) Foxes call the wisest fox, the master of foxcraft, the Black Fox. (Iserles.) In addition to wa'akkir and slimmering, other forms of foxcraft are karakking and maa-sharm. (Iserles.)
Urban foxes are more common in Great Britain than in North America, and Iserles lives in England. Her first books were the Young Adult fantasies The Tygrine Cat and The Tygrine Cat On The Run, a dulogy featuring talking cats. Iserles has since become one of the pseudonymous "Erin Hunter" authors collaborating on the Young Adult fantasy Survivors series, featuring talking dogs (six so far). Iserles has become an expert at writing from an animal's point of view.
In addition to writing Foxcraft, Iserles has illustrated it, but not with traditional drawings. She has created circular pen-&-ink chapter headings that symbolize each chapter. The American edition has double-spread endpapers by her that are not in the British or German editions.