Drag Queens vs. Furries at a legendary San Francisco Party – January 30, 2016.
---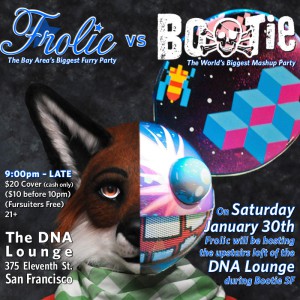 San Francisco Bay Area Furries are fluffing up for another kind of subcultural crossover that makes this place Furry Mecca. (Except when Pittsburgh takes the title once a year.)  Party organizer Neonbunny says:
We did this a couple of years ago, and it was a ton of fun. We'll have a space for fursuiters only, so we won't have to worry about drag queens wondering what happens when glitter is combined with industrial fans.  I do hope you'll join us!
Frolic @ Bootie Saturday, January 30th, 9pm – 3:30am (room runs until 2am). DNA Lounge, 375 11th St, San Francisco.  21+.
Frolic, San Francisco premiere furry party, is teaming up with Bootie, San Francisco's top mashup & bootleg party, to bring you a mashup of multiple cultures, including furries, drag queens, hipsters, live bands, and dj's.
Frolic will be hosting the upstairs space (over DNA pizza), with changing space for fursuiters. Guest DJs include LycanCatt, Ikumma, Raid Zero, and NeonBunny. Groggy will be mixing up some video for us!
Fursuiters are free, just show your fursuit to the person at the door (Bootie's policy is full costumes & makeup are free all night).  And of course, this includes access to the all 4 rooms of Bootie, all night, from 9pm until 3:30 am (our room closes at 2am, but the main room goes much later!)
$10 before 10pm, $20 after — CASH ONLY $15 advance tickets — SKIP THE LINE! available here.

See the official facebook post about the night, and more info about Bootie's night:
San Francisco is home to many amazing subcultures, some of which have gone mainstream, like drag queens, and others that are a little more confusing to the general population, like furries. But both are facets of the diversity that makes SF great. So tonight, Bootie brings them together for one insane party to blow your mind! At 11 PM, Pepperspray, the Bay Area's favorite drag rock band, takes the stage for a special live set, and for the Midnight Mashup Show, Catalysta takes to the silks high above the floor to present thrilling aerial escapades. Main Room mashup DJs A Plus D and Entyme keep the party rolling late into the night with the best mashups in the universe, keeping your tails wagging and your wigs bobbing!
Personally, I'd rather go a level beyond drag… but whether it's gender or species play, there might be more crossover than you think.  Check these out:
Facebook's 'Real Name' controversy, Drag queens, and Furries
A little bit of NSFW art:
Can you think of some good "Furry Drag" names?  My drag dog fursona could be Rin Tin Tits, or Lassie Yernuts. Drop a comment with yours.