Swords and Sausages by Jan – Book Review by Fred Patten.
---
Submitted by Fred Patten, Furry's favorite historian and reviewer.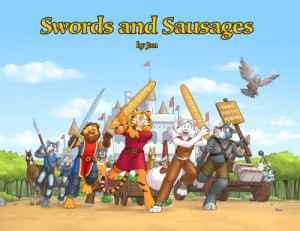 Swords and Sausages, by Jan
Hong Kong, Tiger Knight Comics, September 2015, trade paperback $30.00 (unpaged [128 pages]).
"Once upon a time, nestled somewhere amongst the rolling hills of Vale Valley, was a lively, albeit small, kingdom. And in this kingdom was …"
The main things that there "was" are Tor (a hunky tiger) and Silver (a svelte white vixen), two inept street thieves, would-be con artists, and even more would-be road warriors (robbers), plus the local sheriff (lion). Other supporting characters include the sheriff's town guard (wolves), and varied town merchants (assorted anthropomorphized mammals, reptiles, and birds). The gryphons are unanthropomorphized and are treated as eagles.
This first collection relates the occasionally bawdy misadventures of Tor and Silver (she loses her clothing a lot, if funny-animal cartoon nudity bothers you) around Vale Valley proper and surrounding small towns. They regularly get thrown into the VV pokey, and are released or escape after a few days. It's not that Tor and Silver are stupid, but they are less intelligent than anyone else. The stories feature typical funny-animal slightly exaggerated comedy-adventure. The social level here is about what you'd find at a Renaissance Faire or a Society for Creative Anachronisms event. This collection turns slightly more serious at the end as the tiger & vixen wander outside of Vale Valley and discover that the two neighboring kingdoms are at war.
This first collection of Jan's Swords and Sorcery webcomic is in a "Sunday-page" format of two tiers per page in a large 12" x 9" size, in full color on thick, glossy paper. $30.00 may seem expensive, but when you see how large and impressive this collection is, you will feel it is worth it. It contains the first eight chapters of the strip, from June 1, 2011 to December 28, 2014, plus an original 8-page bonus chapter. Unlike the collection of College Catastrophe, Jan's other webcomic, which is a black-&-white paperback that feels designed to fit into your pocket, this Swords and Sausages compendium is a large, lavish volume fit to be a full-sized coffee-table art book as much as a comic-strip collection. If you like a bright anthro pre-1600 A.D. world without the dirt and disease that real history was full of, get this book – or read Swords and Sausages online.
Jan's College Catastrophe collection is actually printed in Hong Kong, where Jan lives. Swords and Sausages is produced by Jan's printer in the U.S., Paw Pad Printing in Memphis, Tennessee (the printer of the Memphis FurMeet's publications). Orders are shipped by Paw Pad through FedEx, resulting in faster delivery of American orders.